Parking Information for Encounters With Dolphins
The City of Clearwater provides multiple parking options for guests coming to the Clearwater Beach area however, parking is limited and during certain times of the year, traffic will back up over the Causeway Bridge leading to Clearwater Beach.  As a result, we ask that our guests plan accordingly and arrive at least 1 hour prior to their excursion departure time.  The most popular option for guests driving to our location is to utilize the Clearwater Beach Marina parking lot shown below.  Parking in this lot is NOT guaranteed and during peak season and holidays will fill rapidly.  Upon your arrival you will self park at any of the meters in this lot.  The self park meters have a 30 minute limit.  Put a quarter in the meter and come see us at the Tiki Hut (Slip 24).  The City of Clearwater allows us to sell (on their behalf) our guests a permit that will override the self park meters for the time you are out on your excursion with us.  The cost of the self park permit is $6.00 and is non-refundable.
Self park permits are good anywhere in the lot except on meters that say NO PERMITS, Handicapped marked areas and spots that are marked loading and unloading only.  Parking permits may not be purchased in advance and are non-refundable.  Encounters With Dolphins is only authorized to provide a permit for the duration of your excursion, no extensions can be offered.  It is your responsibility to ensure the correct dates and times are marked on your permit and that it is placed in the rear view mirror of your vehicle with the dates facing towards the front of your vehicle.
Additional parking options are available at the City Of Clearwater's parking department page Additional Parking Options or at private hotels throughout the area.
It's always best to arrive at least 1 hour prior to your scheduled departure. That way you can ensure parking availability. During Peak Season, parking and traffic can be a time consuming task, so it's best to plan ahead. See our map below which shows you our parking options. Call us at 727-466-0375 if you need further help.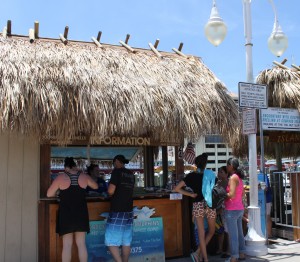 Located at Clearwater Beach Marina
25 Causeway Blvd, Clearwater, FL 33767
Phone: 727-466-0375