Online Reservations for Encounters With Dolphins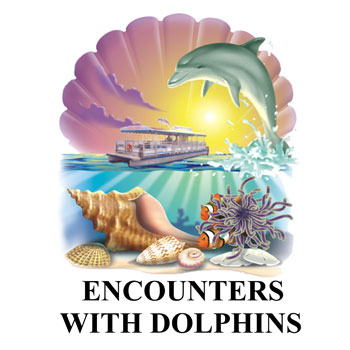 Come join us on a fun filled, narrated sightseeing tour of Clearwater's harbor. Enjoy a relaxing ride while you learn about our abundant wildlife, and view the area's dolphins in their natural environment.  Every trip stops at Compass Island where you can collect shells, swim, snorkel and the kids can even hunt for treasure!  Dolphin sightings are guaranteed*.
Adults $19.75, Children 4-11 $14.25, Free for ages 3 and under.
Encounters With Dolphins Reservations
You can reserve online or via phone.  All phone reservations require payment at time of booking.
All reservations must check in with the sales associate at the Tiki Hut 1 hour prior to trip departure to receive boarding pass.
Trip Minimum: Excursions require at least 5 paying passengers or the tour may be rescheduled or canceled.
Cancellations for Maintenance or Predicted Weather: We will do our best to contact guests well in advance of any trips being cancelled for maintenance or weather related issues. Our sales associate will assist in re-booking your excursion or, if necessary, provide you with a full refund.
Weather: The weather in Florida can be unpredictable and the Captain may decide to cancel the trip for weather at any time. Generally, this will be done immediately prior to departure.
If your trip is cancelled for weather, our sales associate will be more than happy to assist you in rescheduling your excursion or, if necessary, provide you with a full refund.
If your trip is canceled for weather after getting underway, you will be offered a rain check to ride with us again, no refunds.
Parking permits are non-refundable and cannot be exchanged for use on another day.
General refund info for online and phone reservations:

May cancel at any time up to 24 hours in advance. Within 24 hours or after trip departure, NO refund.
Missed Trips: we will do our best to accommodate guests who have purchased tickets but missed their trip. We will allow the guest to board another trip on the same departure day on a space available basis at no extra charge. We will not guarantee availability or accept re-booking for another day.
Other general information for online reservations: Please consider bringing extra cash or credit card on the day of your excursion for souvenirs, parking, drinks and more. Crew gratuities are graciously accepted. The standard tour guide tip in the tourism industry is 15-20%.